'The ghetto itself is the gallery.'
Emory Douglas, Black Panther Party Culture Minister
Before seeing this exhibition, based on the name alone, I was expecting a show turned up to peak volume; not that there is a problem with this, as someone who adores noise, the blacker the better, but wondered if it might operate on the level of radical pastiche.
None of this was a judgment of the curators, Mark Godfrey and Zoe Whiteley who have assembled 150 works from 1963-1983 by black American artists or the museum, but more an expression of personal confusion or alienation now that transgressive art, culture and ideas from the past are routinely transformed into commodities to be sold.
As I soon discovered, though, this often delicate and complex show was light years away from such mind-static. Introspection, restraint and a deep thoughtfulness pervaded much of the art – and its presentation - allowing us to take time to reflect and feel something of how it might have been to be alive then.
'H20gate Blues' Gil Scott-Heron and Brian Jackson (Winter in America, Strata-East Records, 1974)
Certain artworks, such as 'Injustice Case' (1970) by David Hammons worked on the level of the gut –
the artwork depicts Bobby Seale, co-founder of the Black Panther Party, gagged and shackled at his 1969 trial after the judge ordered he be chained to his chair following a series of interjections. He was being tried as one of the 'Chicago Eight' on charges for conspiracy to cross state lines, according to the history.com site, 'to cause a riot during the violent anti-war demonstrations in Chicago during the 1968 Democratic National Convention'. He was later tried alone for contempt charges and received a four-year sentence.
Here, Hammons printed his own body, objectifying it, transforming it into an surface, he 'coated his body (along with his clothes and hair) in margarine and then rolled his torso and limbs onto a large piece of illustration board, printing the image by pressing his body onto the smooth surface of paper, often arrayed on the floor' – this is taken from Apsara DiQuizio's article, 'David Hammons: Printing the Political, Black Body'.
Because of its life-size dimensions, the essential savagery of what it depicts – chaining up a man as if he were a dog at his own trial - and the genius of the presentation/idea, this work is deeply affecting. Resembling an X-ray in an airport, the image transforms Seale into little more than a squashed/flattened body/bones in his fingers, while forcing us into the role of those conducting the surveillance. An older white man standing in front of me, shook his head when reading the description for the artwork and swore under his breath.
There's a lot to write about in terms of this exhibition, I kept writing notes and taking photographs of the descriptions of the works, as I was struck repeatedly by the fragments and splinters of ideas, often formulated as questions, see this from the brochure: 'Was there a 'Black art' or a 'Black aesthetic? Should an artist create legible images or make abstract work? Was a choice to be made between addressing a specifically Black audience or a 'universal' one?'
***
Black Light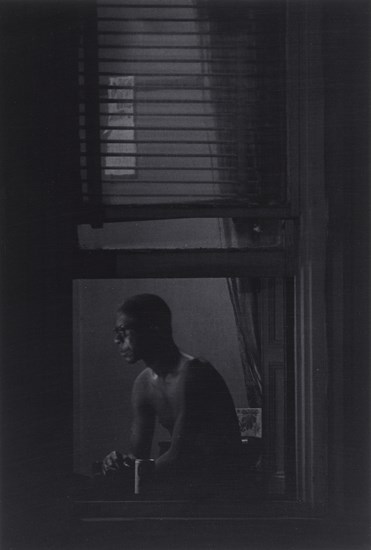 Roy DeCarava (1919-2009) Man in window, New York, 1978
'... the self as a secret entity, as a secret, hidden place.'
Note beside an artwork by Martin Puryear, 'Self' with regard to his sculpture (1978)
One of the rooms seemed darker than the others and held a series of fragile and extremely beautiful installations by Betye Saar from the early 70s that drew on time spent in Haiti, entering the room was like going into a crypt ... On the walls, there were finely-constructed collages, often held in wooden boxes, filled with very small objects. There was something deeply private and intimate about this art that moved me.
The act of collecting and putting these objects together was a recurring theme in the exhibition; for example, the room called 'Los Angeles Assemblage' that included this commentary:
The artists featured in this room - Noah Purifoy, John Outterbridge, Melvin Edwards and Betye Saar - 'created art by recycling and bringing together objects in different formations, known as assemblage'.
Of particular interest to me was the 'Lynch Fragments' series by Melvin Edwards, a project he started in 1963. The aggressive-looking steel objects, made up from refuse found on the streets of LA completely reversed expectations of how to represent race-based violence; here there is no victim – and no audience – but an object of torture, made from scrap metal.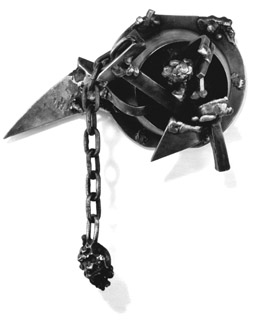 Melvin Edwards (born 1937) Some Bright Morning, Lynch Fragments 1963
Christopher Knight writing in a Los Angeles Times review of a show marking the 50th anniversary of the Watts uprising quoted Purifoy as saying the following regarding the Watts Towers that he said was 'arguably America's greatest modern folk-art masterpiece.'
Knight then concluded with these sentences: 'Their being in the world — battered and discarded, like the broken glass and pottery of the soaring towers but also reassembled and reborn into something beautiful, mysterious and profound.'
Romare Bearden (1911-1988) Mysteries, 1964